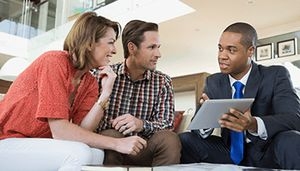 AXA ADVISORS
You enjoy connecting with people to better understand their needs and are looking for a career opportunity where you can help them make a real difference in their lives.
BECOME AN AXA ADVISOR
Our Business
People rely on AXA to help them with simple steps toward securing their future. AXA is a member of the global AXA Group, a worldwide leader in financial protection strategies and wealth management. According to Interbrand, AXA Group has been rated the No. 1 global insurance brand for six years in a row.
MORE SUPPORT FOR YOU
See how AXA Advisors can support you and your career every step of the way:
Get the training you need to succeed
On joining AXA Advisors, you're immediately enrolled in one of the industry's most comprehensive and effective training programs. Through eLearning, live seminars and one-on-one training, you'll get the certifications you need and will learn how best to help clients achieve their financial goals.
The technology you need to work smarter
At AXA Advisors, you have access to the latest advanced software to help you develop, implement and manage strategies for your clients. The right tools and networks can help you work more efficiently to create detailed financial strategies for clients.
The expertise to support your efforts
"Entrepreneurial" doesn't mean alone. Attorneys, underwriters, pension consultants and other professionals from our Advanced Markets group can work with you to develop recommendations for your more sophisticated client situations.
Turnkey marketing to keep you one step ahead
By working with AXA Advisors, you gain access to the business-building tools you need to maintain and grow your practice. Our turnkey marketing programs are designed to drive your business forward.
Continued education to keep you sharp
Through eLearning, live seminars, conferences, summits and our special At Retirement educational course in cooperation with the Wharton School, University of Pennsylvania, AXA Advisors will make sure you continue to have the knowledge you need to grow your business.
Enjoy competitive compensation and benefits
Compensation at AXA Advisors goes beyond a competitive commission structure. You'll also enjoy the comprehensive benefits you'd expect from an industry leader, including:
Health, dental, vision, life and disability insurance

Company-funded retirement plan (based on eligible earnings)

AXA Equitable 401(k) plan

Deferred (pretax) compensation
Sorry, we have no jobs right now that fit these criteria.
Check back again or sign up for a job alert.